This page lists all the Q&A and troubleshooting topics we've faced so far. Got another? Let us know by contacting us.
Q: What version of Windows and PowerPoint is BrightSlide compatible with?
A: BrightSlide works on all 32 and 64-bit versions of Windows from 7 (see caveat below) onwards and all 32 and 64-bit versions of PowerPoint from 2013 and onwards, including 2016, 2019 and Office365.
---
Q: Is there a Mac version of BrightSlide?
A: Not at this time. Many of the features rely on underlying technologies that Microsoft do not support on Mac. If this situation changes, we may consider developing a Mac version.
---
Q: Why is BrightSlide free?
A: Part of our company DNA is sharing. We love to help the presentation community by providing free masterclasses, sharing our knowledge via our blog and giving away lots of cool resources. BrightSlide is another little gift to help all presentation designers build their content faster, smarter and with more flair.
---
Q: Why do I need to register and provide my email address?
A: First things first. We will never share your email address with anyone. Period. So why do we ask for it at all then? For several reasons:
– Because we'd like to have some kind of idea of who's using BrightSlide. Are BrightSlide users individuals, corporate users, agencies etc.?
– Not everyone will turn on the software update feature in Settings & Help / About so we may contact you if we need to make a significant new release due to a Microsoft change, bug or new feature for example.
– We designed BrightSlide for you. We'd like to ask you what you think of it every now and then and to see if you have suggestions for new features or improvements. Don't worry, we're not going to ask you every day or even every month!
– So we can let you know about other cool add-ins when we create them.
If you want to be added to BrightCarbon's monthly mailing list, you can subscribe here.
---
Q: When I try to register, BrightSlide informs me that it can't reach the server. What can I do?
A: This typiclly happens in corporate IT environments. Try these resolutions in order:
1. Turn off your VPN and try the registration again.
2. Ask your IT team if your firewall or anti-virus suite is blocking connections to https://brightcarbon.com
3. Ask your IT team this question: "I am trying to register a licence with a third party application add-in for PowerPoint which needs to communicate with the publisher's web server to activate the licence. Is there anything in our IT infrastructure that prevents HTTPS traffic with REST/JSON APIs for external websites?"
---
Q: Will files I create with BrightSlide work when I share them with others who don't have it installed?
A: Yes. BrightSlide uses standard PowerPoint functionality to create all of the features so your files will transfer seamlessly to other users, with or without BrightSlide, on both PC and Mac.
---
Q: Why does BrightSlide require elevated admin privileges to be installed?
A: The installer places most files in the %AppData% area for the user profile but it also uses a custom font for the user interface which must be installed in C:\Windows\Fonts
When installing for a user without admin rights, a request is made to enter admin credentials and this privileges elevation previously caused PowerPoint to look in the wrong place for BrightSlide so the tab didn't appear. This has been addressed from version 1.0.0.5 by installing the add-in in two phases, the first PowerPoint phase without elevated admin rights and the second assets phase (the custom font) with elevated rights, which requires admin credentials.
---
Q: How do I request new features for BrightSlide?
A: We'd love you to share your ideas publicly on Twitter and you can also drop us a line privately by contacting us here.
---
Q: Can I use BrightSlide on commercial projects?
A: Yes you can. There are no limitations in the EULA (End User License Agreement) built into the installer that limit how you can use BrightSlide for project work.
---
Q: How do I know BrightSlide is secure?
A: We digitally sign BrightSlide with the latest EV (Extended Validation) code-signing certificate. This is issued to us by Sectigo, a global certificate authority. This guarantees that the product we publish reaches you unaltered. In addition, we scan the installer using BitDefender before we publish it to ensure it's malware, virus and trojan free. Occasionally, some AV (Anti Virus) products falsely detect BrightSlide and we work with those companies to correct the situation quickly. If this happens, please contact us as soon an you can.
---
Q: Do you provide support for BrightSlide?
A: We want BrightSlide to be the best it can be. If you find something that doesn't work as expected or you have ideas for improving the product then we're all ears (we want to hear from you!). You can contact us by email at brightslide@brightcarbon.com, via our website or on Twitter.
---
Q: Will there be software updates to BrightSlide?
A: Yes! Our design studio team have lots of ideas and so do our users. We'll be making regular releases as and when we have something new to share. They may include bug fixes, improvements to existing features and even new features! Follow us on Twitter to make sure you don't miss out.
---
Q: What is Mr. BrightSlide?
A: Mr. BrightSlide is our robotic hero who has an array of gadgets at their disposal to help your presentations using the BrightSlide add-in for PowerPoint. Watch out for the adventures of Mr. BrightSlide on Twitter.
---
Q: Can you develop a custom PowerPoint add-in for my organisation?
A: Absolutely. Contact us to discuss your needs and ideas and we'll be happy to help.
---
Q: What other PowerPoint add-ins do you provide?
A: For people wanting to evaluate how easy it is to install an add-in for PowerPoint, we have a free sample calculator add-in. We also have an enterprise solution for creating on-brand presentations and checking them for brand consistency. Contact us for more info.
---
Q: Do you provide services for creating VBA macros for PowerPoint and/or other Office applications?
A: Contact us to discuss your requirements and in parallel, you can find some free examples in our blog.
---
Q: How do I uninstall BrightSlide?
A: You can temporarily deactivate the add-in or uninstall it completely.
To deactivate it, open PowerPoint and click File / Options / Add-ins. Change the Manage drop down to PowerPoint Add-ins and click the Go… button. Uncheck the BrightSlide add-in and click Close.
To uninstall BrightSlide, type add into the Windows search bar and click Add or remove programs when it appears: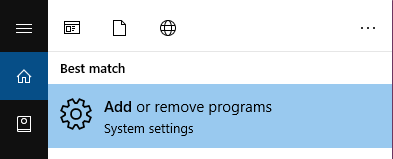 Type BrightSlide in the Search this list field, select BrightSlide and then click the Uninstall button: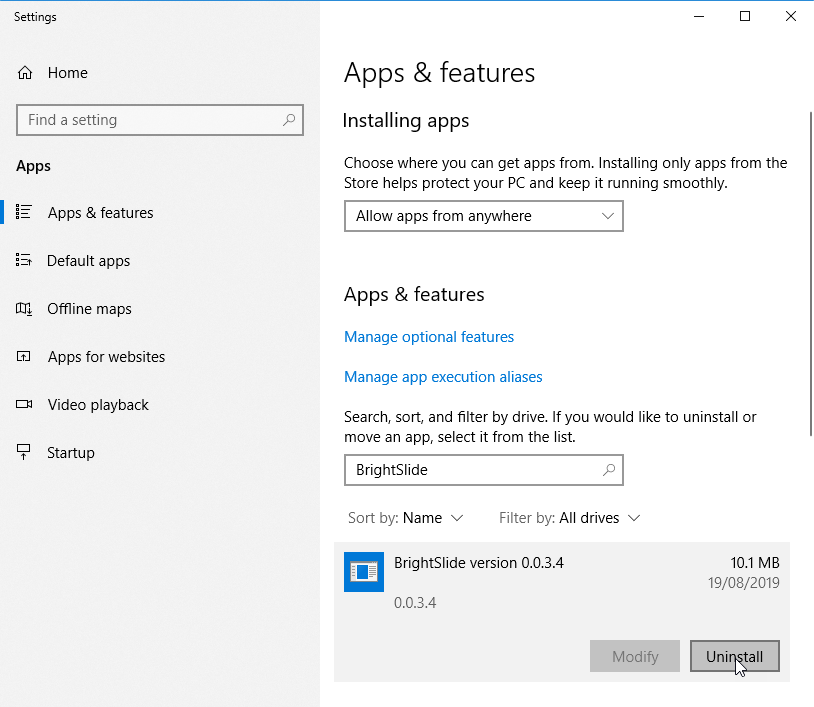 ---
Q: Does BrightSlide include features from any other add-ins such as Text-to-Outline?
A: Yes it does! We've worked to integrate the most popular features from an add-in called YOUtools and these features can be accessed by going to the BrightSlide tab in PowerPoint and in the Settings & Help group, clicking the Settings menu followed by the Ribbon Setup button. You can then activate the Legacy Tools which appear as a new group in the ribbon.
---
Troubleshooting
---
Issue 1 : Couldn't Load Add-In
You see the message below and after clicking OK, BrightSlide does not appear in the ribbon.

Cause
The add-in can't be found on your system. This may be because it's been deleted or moved. This can happen if the add-in is installed for a different user profile and the accounts are switched or if the add-in is quarantined by over-zealous anti-virus software. If the later happens, please contact us as our software is malware and virus free but every now and then, an anti-virus app can trigger a false detection.
Fix
Reinstall BrightSlide. If this doesn't fix the issue, please contact us.
---
Issue 2 : No BrightSlide Tab
After installing, the BrightSlide it doesn't appear in the ribbon.
Cause A
You were required by your IT policy to enter admin credentials during the installation which activated the add-in for the admin profile while PowerPoint uses the user profile.
Cause B
You clicked on a PowerPoint file to open PowerPoint. This is a bug that has been reported to Microsoft.
Fix A
Activate the add-in manually as follows:
1. In PowerPoint, click File / Options / Add-ins
2. At the bottom of the window that opens, change the Manage drop down to PowerPoint Add-ins
3. Click the Go… button
4. Click the Add New… button
5. Navigate from the folder that opens to BrightCarbon\BrightSlide
6. Select the BrightSlide add-in (.ppam)
7. Click the OK button
8. Click the Close button
Fix B
Start PowerPoint from the application icon and then use File / Open to open your file.
---
Issue 3 : PowerPoint Crash on Start
You enabled Productivity Shortcuts and now PowerPoint crashes each time you try to start it.
Cause
This is a known issue on some specific PCs which we're working on a permanent fix for.
Fix
The temporary fix is to disable the Productivity Shortcuts by changing one setting in the Windows Registry. This can be done by downloading and running this reg file: right-click and select Save Link As. Note that you may be prompted for administrator credentials.
---
Issue 4 : BrightSlide UI corruption
Various buttons and controls don't appear as designed, making it difficult to use the features, even if they are not directly affected:

Cause
BrightSlide uses the Segoe MDL2 Assets font for many of the interactive elements across its windows in the user interface. This font is shipped by Microsoft from Windows 10 onwards. Users on Windows 7 and earlier will not see the UI as it's supposed to be displayed. For example, check boxes, spin controls, [X] to close windows will appear "corrupt".
Fix
The ultimate fix is to upgrade to Windows 10! You may be able to source the missing font from a third party site but since it's licensed as part of Windows 10 the Microsoft store will not allow you to download it from here.