Blog
30th Jun 2016
Three PowerPoint plug-ins to try today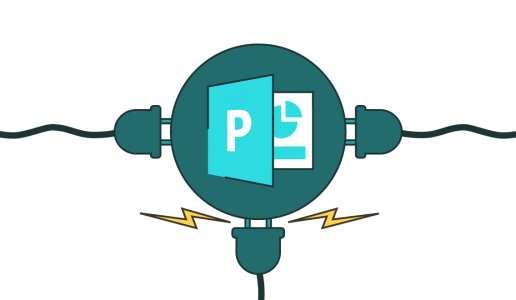 I often find myself thinking about PowerPoint, and there's nothing I like more than finding out about a feature that helps me improve my PowerPoint productivity, or helps me to make something really cool. I've had a quick nosey around the Office Store and I've found three pretty nifty PowerPoint plug-ins that claim to do just that: Shutterstock Images, Mentimeter, and Symbols and Characters. I've given them a test drive so you don't have to! Let the testing begin!
PPT 2013 or later/PPT Online
What is it: Shutterstock's new plug-in allows you to search through their library and insert images into your slides without leaving PowerPoint. Available for PC and Mac.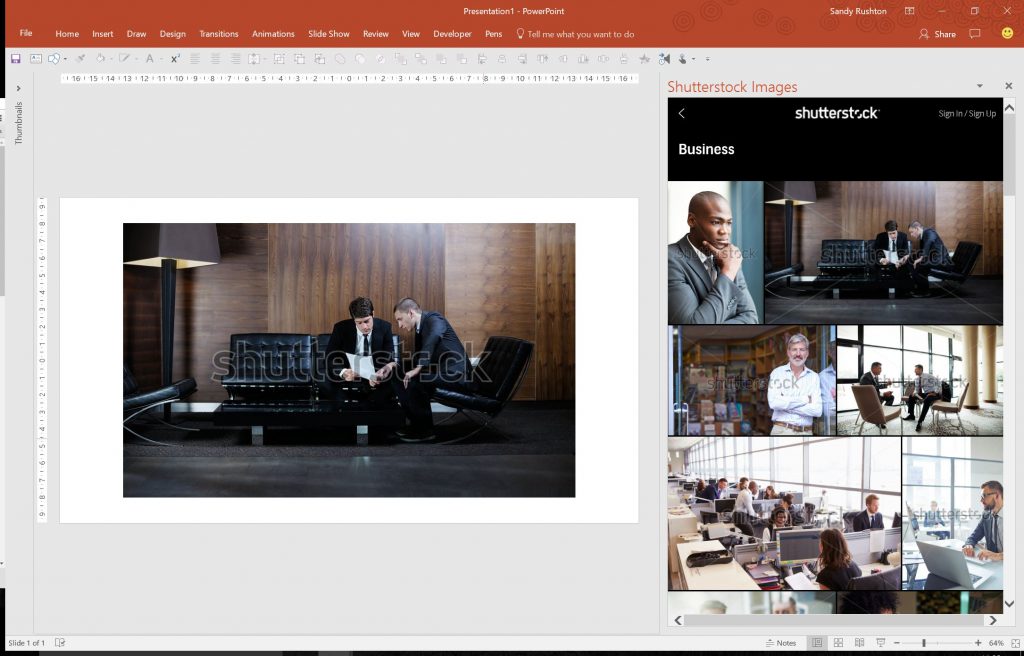 The good: The curated image collections are well put together and make it easy to find a generic stock image for your presentation. If you need something specific, you can search for images directly within the plug-in as well.
The 'Preview' feature is a highlight, allowing you to get a sense of how your photo is going to look within your presentation before downloading it. You can crop, re-size, and re-colour the image and try it out in show mode as well. It's the PowerPoint version of a changing room, really!
Once you find the perfect photo, you can purchase the image directly through the plug-in. If you need help finding the perfect photo, take a look at this article here.
The bad: The plug-in allows you to download different sizes of image directly into the deck, but large uncompressed images could still cause file size problems. Best to keep an eye on the file size and maybe download from the Shutterstock website, compress, and then insert into your slides. If you need help managing file size we have a blog post just for you!
The verdict: Useful to try images before you buy, might make your files huge if you aren't careful.
PPT 2013 or later/PPT Online
What is it: A PowerPoint plug-in that allows your audience members to respond to questions – in real-time – using their mobile devices.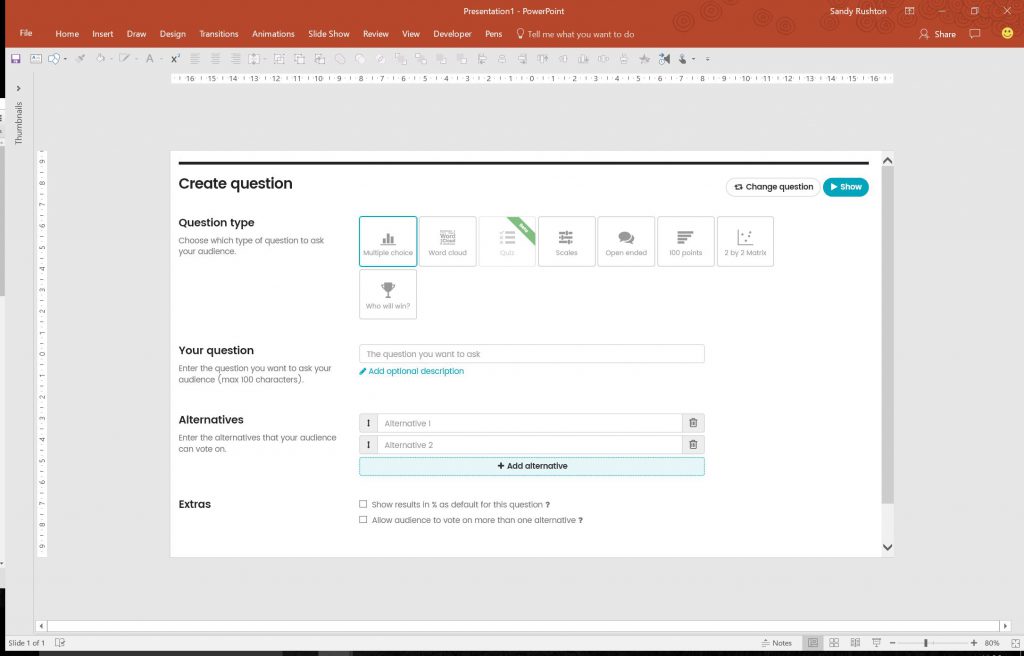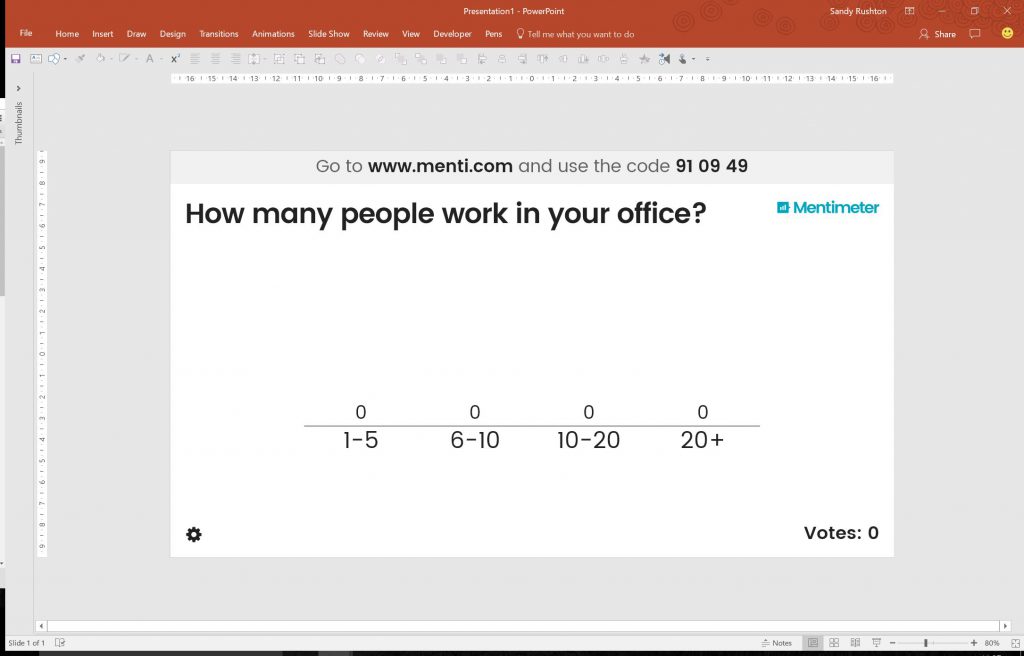 The good: Interaction is really 'in' right now, and with good reason! If you can engage your audience with an interactive side to your slides, your presentation becomes even more memorable.
Mentimeter's tool for interactive question slides is a clever way of bringing your audience responses to life and making them feel like a real part of your story.
The interface is really well designed, responsive, and user friendly. There is a good range of question types, from simple multiple choice questions to audience generated word clouds.
I found the response system pretty straightforward: type in the website url, log in with a code, submit your answer, see it on the screen. But even if you have a tech-savvy crowd (and especially if you don't!) I would recommend getting your audience to get set up for the questions before your presentation begins.
Have a slide on screen while they're walking into the room with clear instructions, so that they can get ready to answer before the question actually appears. This should cut down on awkward phone fumbling.
Although Mentimeter looks pretty slick, and has a lot of power on its own, the role of the presenter can't be understated. It's important that the presenter doesn't stand oohing and ahhing over how cool the interactive tool is. Prepare in advance and make sure that you have a point to make, however your audience respond to the questions you ask them.
Another note, Mentimeter is definitely not the only option out there for this type of interaction tool. For example, Poll Everywhere allows audiences to respond via text and the free version has customizable colours, which might make it a better option for some!
The bad:
The free version of Mentimeter does have some make-or-break limitations. In the free version, you can only use two questions per project (although I wouldn't think you'd need many more than this in your average presentation).
The limitations that might cause bigger problems are the inability change the branding of the slides, and the fact that your questions may be anonymised and used by Mentimeter to "inspire other users". So for those with corporate branding on slides or secure information, the free version falls down.
Upgrading to one of Mentimeter's paid plans can get around these potential problems, and if this is a tool you would use regularly then a payment plan might be worth it.
The verdict: With a confident presenter and a tech-savvy crowd, this can be a great interactive tool.
Learn more about interactive presenting with our free video resource.
PPT 2013 or later/PPT for iPad
What is it: A simple PowerPoint plug-in for inserting special characters and symbols into your slides.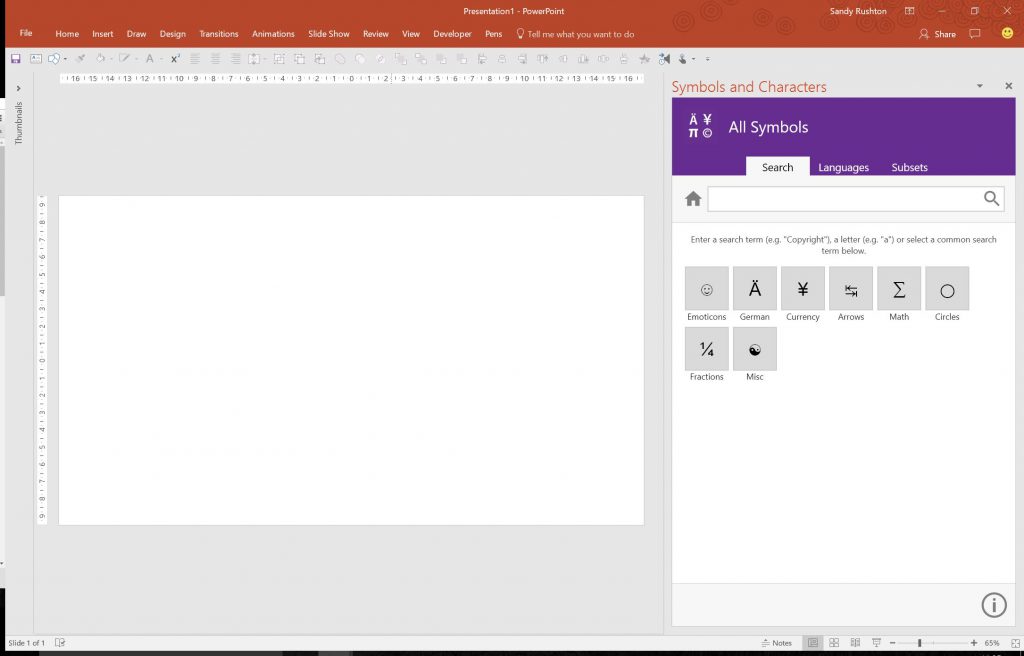 The good: You might be thinking 'this already exists right?'. Well yes, there is a Symbols option in PowerPoint's Insert menu. But this plug-in is a whole lot better because it is…searchable!
Instead of scrolling through endless phonetic symbols to try and find the right umlaut, Symbols and Characters provides you with a search function. It also groups the symbols and characters into sets and into different languages, which is really useful!
There's also a host of strange emoticons which brightened my day, though I probably wouldn't use them on a slide.
The bad: No bad points for me but I'll take a moment to ponder over why the Office symbol menu isn't a tad better? Surely Microsoft could incorporate a search function?
The verdict: Handy tool for 'Where on Earth do I find an interabang?' moments.
Any other PowerPoint plug-ins we should know about? Let us know in the comments below.
Leave a comment
Feb 2023
Learn how to automatically generate total values for your graphs and charts using PowerPoint's Combination Chart option.
Feb 2023
February 14th is around the corner, so the BrightCarbon team have crafted three bespoke Valentine's day cards: all built in PowerPoint!
Feb 2023
Some presentations require the exact same chart, graphic, or image on multiple slides. A new feature of PowerPoint 2016 is zoom links. With this feature, you can work around the issues of having multiple versions of a graphic throughout a presentation: PowerPoint will do the updating legwork for you! Read on to find how to make the most of this new feature.
A big and sincere thanks for all of your superb help and effort in preparing such fantastic material and for all your excellent coaching tips. Look forward to working with you again soon.

Greg Tufnall Siemens