This page breaks down the brilliant functionality of our PowerPoint add-in BrightSlide. Click the section you want to learn more about or scroll down to see just what BrightSlide can do. If you're on a Mac, check out our feature compatibility list.
Haven't downloaded BrightSlide yet? Click here to get started or see our release notes if you're updating.

Align Group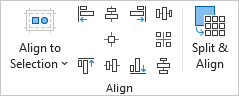 We've amped up PowerPoint's standard alignment tools, giving you more control when laying out your slides, so you can easily create balance.
Align to – With BrightSlide, you've more control and more choice. In addition to PowerPoint's default alignment options you can now align objects to a selected reference object or your guides.

---

Align to Selection – This is the default alignment mode for PowerPoint. Objects are aligned to the boundaries of your selection.

Align to First Selected – When you select two or more objects, this option aligns your selection to the reference object. The reference object is always the first selected.

Align to Guides – Aligns your selection to the nearest guide. Click align multiple times to move through all the guides.

Align to Slide – This is PowerPoint's default alignment mode for a single object. With BrightSlide you can use this alignment mode with multiple objects at once.

---

Remember Between Sessions – Always want to Align to Guides? Enable this feature to save your preferred settings.

---

Shortcuts

Shift-click the alignment tools anywhere in PowerPoint for Align to First Selected.

Alt-click the alignment tools anywhere in PowerPoint for Align to Guides. Repeatedly click the selected align option to toggle through the guides. Add Shift to toggle through guides in the opposite direction.

Ctrl-click the alignment tools anywhere in PowerPoint to add Match Size functionality. Resize all objects to match the first selected object. You can combine Ctrl with the Shift key shortcut above.

Align Centre and Middle – Aligns objects to their centre points with one click.
Distribute to Grid – Select multiple objects then click Distribute to Grid and BrightSlide will automatically arrange your objects in a grid formation. You can choose the exact distance between objects or make them fit within a defined space. Great for arranging images or icons.
Note: Different-sized objects are not currently supported. Use the Match Size tool to give your objects the same dimensions.
Split & Align – This feature allows you to split a single object or group into evenly sized and spaced copies of itself. The copies are placed inside the boundaries of the original object.You can choose the number of columns and rows, and set the gutters or width/height to your liking. If you set a gutter that you are happy with, Split & Align will keep your preferred gutter even if you decide to add more rows or columns. Width and height settings work the same way, great if you want to keep your circles perfect, no matter how many columns or rows you wish to create.

It works with shapes, groups, pictures, tables, charts, SmartArt, media, and even most placeholders.

Split & Align is great for creating irregular layouts, logo grids, shape-based tables and graphs, master layouts, grids on macOS, and more.
Format Group

In the Format group you'll find a collection of tools that will help you save time by making editing multiple objects at once, or copying complex formatting, super simple. More time for the important stuff.
Match Size – Use this tool to make selected objects the same size, width and/or height. All the objects selected will take the size of the first object you clicked on as a reference. If you just select a single object it will match the size of your slide.

Shortcuts

Shift-click to keep object aspect ratios when matching width or height.

Typography – We're super excited about these tools! A lovely easy way to create some stunning typographical effects without a detailed knowledge of typography.

Live Character Spacing – Select text or a text box then select Live Character Spacing. You can adjust the space between characters using the arrow keys on your keyboard, the slider, or by typing in an exact value. You can see the changes in real time. Under Menu you'll find options to Apply to Same Font & Size, Apply on This Slide, Apply on All Slides.

Live Paragraph Spacing – Select two or more paragraphs or a text box containing two or more paragraphs then select Live Paragraph Spacing. You can then adjust the space between paragraphs using the arrow keys on your keyboard, the slider, or by typing in an exact value. You can see the changes in real time. You have the option to adjust Line Spacing or the spacing Before or After a paragraph. Under Menu you'll find options to Apply to Same Font & Size, Apply on This Slide, Apply on All Slides.

You can also access Live Paragraph and Character Spacing by selecting text and right clicking.

Shape Fill, Shape Outline and Font Color – These tools let you color objects quickly and accurately. Pick colors from anywhere on the screen or easily copy and paste hexadecimal color values from other applications into PowerPoint. Live Preview shows you how the new color will look in situ and each color channel has an individual slider control, which makes choosing colors easier.
Format Painter – This is a PowerPoint tool you'll already be familiar with; we've copied it to the BrightSlide tab to be easily accessible when you're editing your slides.
Adjustment Painter – Use this tool to copy and apply shape adjustments (like rounded corners, chevron angles, arrows, etc.) to another similar shape. You can use the Adjustment Painter on all shapes that have a yellow adjustment handle.

Select your adjusted shape
Click Adjustment Painter
Click another shape of a similar type to apply

You can apply the adjustments to multiple shapes by double-clicking the Adjustment Painter or lassoing multiple shapes after the painter has been clicked.

Table Format Painter – You can use the Table Format Painter to standardize the design of all tables in your PowerPoint file. First, make sure one table is looking good then

Select the table to copy from
Click Table Format Painter
Click another table to apply your design

You can apply the formatting to multiple tables by double-clicking the Table Format Painter or by lassoing multiple tables after the painter has been clicked.

Shortcuts

Shift-click on the Table Format Painter to bring up settings, here you can choose which design elements to copy over.
Selection & Object Group

Under Selection & Object you'll find a range of helpful tools designed to make your life easier.
Select Objects – The Select Objects tool is a real timer saver. Select an object or text and then use this tool to select and edit multiple other objects on the slide that match a specific property of the first e.g. outline color.

Select an object
Click Select Objects then chose one of: Fill Color, Outline Color, Outline Weight, Shape Type, Font Size, Font Color, Font Name
Make your edits

Note: PowerPoint can't select objects inside and outside of groups at the same time.



Lock and Unlock Selection – This tool allows you to lock objects, making it impossible to select that object until you chose to unlock. A super handy use for this tool is locking a background image or graphic, allowing you to easily work with shapes on top of it and not constantly accidentally select the background! Click Unlock All to unlock all locked objects on current slide. And don't worry about remembering to unlock objects before you send your presentation to someone. The lock is only active if you have BrightSlide installed.

Note: Tables, graphs and Smart Art are not currently supported. Keep an eye on our What's New page to see the latest updates.

This function has a shortcut. Activate it in Settings under Productivity Shortcuts.

Ctrl + 2 – Lock Selection

Ctrl + Alt + 2 – Unlock All

Show and Hide Selection – A lifesaver for people who spend hours scrolling up and down the Selection Pane, these tools let you hide and show selected objects with just one click. They are perfect if you're editing complicated slides and don't want to have to move objects around to do it. Keep your layouts pristine and your sanity intact!This function has a shortcut. Activate it in Settings under Productivity Shortcuts.

Ctrl + 3 – Hide Selection

Ctrl + Alt + 3 – Show All

Merge Text – Select multiple objects containing text then click Merge Text. Your text will be merged into the first object you selected. Original text formatting is retained, and the other objects are deleted.Shift-click to remove all paragraph breaks and soft returns.
Split Text – Got a dense text box that needs splitting out? Perhaps it's a list of bullet points or the steps of a process. Save time copying and pasting and just click Split Text. Choose between splitting by paragraph or by sentence. The original text and object formatting are retained.Note: Bulleted and numbered list items are considered both sentences and paragraphs

.

Selection Pane | Collapse & Expand Groups – Working with lots of groups? The Selection Pane can quickly get overloaded, so it's handy to be able to collapse all groups to see what's going on.
Swap Objects – You've designed a slide to perfection, then decide to switch out an icon or image. Use this tool to maintain the integrity of your slide layout.Select two objects then click Swap Objects. You can swap positions using 5 different reference points around the bounding box of the objects.

Shortcuts

Shift-click Swap Objects to temporarily show and set the reference point.

Add to Group – Add extra graphics or text boxes to an animated group – no do-overs necessary. The group retains its name, layer and animation settings.

Select the target group
Select the object
Click Add to Group
Animation Group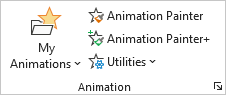 Grow/Shrink Calculator – Get rid of the guess work, calculate the animation grow/shrink percentages needed to grow or shrink one object to match another.
Select two objects
Click Utilities and select Grow/Shrink Calculator
My Animations – We designed the Animation Library for our designers, but it was too good not to share! Our designers are amazing animators but were tired of having to repeatedly recreate the same sequences or copy and paste animations from one presentation to another. My Animations is a library of animation sequences that you can add to any object with just one click to give a consistent, professional, and polished feel to your content.

You can add your own custom sequences, including timings and settings, so your favorite animations are always close at hand. We've pre-stocked your animation library with a few lovely sequences to get you started.

Select object to be animated
Click My Animations
Select sequence

Edit Animation Library – It's really easy to modify, rename, reorder and delete your animations.

Click My Animations
Under Manage select Edit Animation Library
A PowerPoint file containing your library will open. Use the Selection Pane and Animation Pane to manage your library. Save and close the file to finish

.

Animation Painter and Animation Painter Plus – PowerPoint's Animation Painter copies animations from one object to another but, frustratingly, it deletes any animations that already exist on the second object.The BrightSlide Animation Painter+ allows you to add copied animation effects to an existing animated object, without affecting what was already there. The animations simply stack on top of each other.

Select the object to copy from
Click Animation Painter+
Click another object to paste the animation effects

You can add animation effects to multiple objects by double-clicking the Animation Painter+ or by lassoing multiple shapes after the painter has been clicked.

Note: Reversed Motion Paths are currently not supported.

Waterfall Delay – Add a cascading waterfall delay to all animations applied to selected objects. Before BrightSlide this would have taken forever! But our handy add-in can automatically stagger your animations for a smooth, professional look. Settings give you control over timings and which animations the effect applies to. You can add a delay to every object or every animation on every object.
Animation Utilities – You might not be an animation oracle, but everyone will think you are once you start using BrightSlide. Our PowerPoint add-in will help you create impactful effects in a fraction of the time it would usually take.
Motion Paths / Match End Points – This tool helps you create complicated Motion Path effects in a matter of seconds. It works in two different ways.

Apply linear Motion Paths to two or more objects
Select the object you want to set as the Motion Path end point
Select your animated objects
Click Match End Points


Select two or more unanimated objects
Click Match End Points
A motion path ending at the center point of the first object selected will be apply to all other objects selected. Shift-click to reset all start points.

Motion Paths / Duplicate at End Point – Create a duplicate object at the endpoint of a linear motion path. This is useful for building complex multi-click animations that happen on a single slide. It takes the guesswork out of getting smooth transitions between position changes.
Motion Paths/ Reset Start Point – Reset the start point of linear motion paths.
Motion Paths / Paste as Motion Path – Easily create Motion Paths from freeform shapes. Simply copy* a shape you wish to use as a Motion Path, select the target object, and apply this feature.

By default, the animated target object will be kept in its initial position. By shift-clicking, you can keep the Motion Path in its initial position and move the target object there. 

*To copy your source shape on Windows, use Ctrl + C or Copy from the ribbon. On a Mac, click the Utilities menu in the BrightSlide Animations group followed by Motion Paths / Copy for Motion Path.

Hide/Delete Animations – Easily disable or delete animations in a presentation. These features don't affect transitions.

Hide During Slide Show – Temporarily disable all animations in your presentation.
Delete from Selected Slides – Delete all animations from currently selected slides.
Delete from Presentation – Delete all animations from the entire presentation.
File & Master Group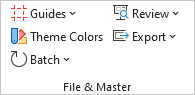 Guides – Using PowerPoint's own Guides tool can be fiddly and unintuitive. When you move guidelines manually there is no mathematical way to ensure precision, you've just got to eyeball it. BrightSlide's Guides can be precisely placed and are mathematically accurate.
Create Guides – Setup a grid of guides using margins, columns, rows and gutters. Simply chose the number of columns and rows, set your margins and watch the guidelines change in real time – BrightSlide does all the calculation for you.
Make from Selection – BrightSlide can also create guides from content you already have on the slide. Click Make from Selection to add guides to the bounding boxes of selected objects and groups.
Theme Colors

Edit Theme Colors – If you're designing a template or just need to change the theme colors associated with the master, then the Theme Colors Editor will help you do it in record time. Keep everything on brand and looking good by setting your theme colors in either HEX or RGB format or simply using our Color Picker. You can also edit custom colors with no need to hack into the XML.

Color Contrast Report – Generates an accessibility color contrast report for all the theme colors in the currently active master. The report shows which color combinations pass and fail the WCAG Level AA success criteria for color contrast. See Color Contrast Checker in the Contextual Tools section on how to measure color contrast with non-theme colors. 

Delete Recent Colors – Remove those pesky recent colors that can appear in the PowerPoint color picker when you use colors that are not in your theme.

Batch Processing Features

Perform repetitive tasks within this presentation

Assign layouts – Assign layouts to slides in bulk. This is great for cleaning up unwanted layouts in your current project, cutting down on confusing options, and reducing file size.

Insert Layouts – Insert one slide for each of the layouts in this presentation. New slides will be added in a new named section. Multiple sections will be created for presentations with more than one slide master.

Paste Clipboard to Selected Slides – Paste objects from the clipboard to the selected slides. Alternatively, select two or more slides and press Ctrl+V to paste the objects from your clipboard to those slides.

Delete Matching Objects from all Slides – Delete all matching objects from all slides (excluding the current one). A matching object matches two of these criteria: size, position, name. For objects within groups, the group itself and the object within must both match.

Resize all Pictures to Slide Size – Resize all of the pictures in this presentation to match the slide size. Use with the PowerPoint Photo Album feature (Insert / Photo Album) to create full-bleed photo album presentations.

Presentation Language – Set the presentation language for your file and all of the objects across all of the slides.
Speaker Notes – We've given you a bunch of new speaker notes tools helping you easily export your notes as a Text, Excel, or Word file. You can also get an instant word count to help you keep on track or delete all speaker notes with the click of a button.
Hyperlink Tools – If you're making an interactive PowerPoint presentation, it's all too easy to lose track of your hyperlinks. This tool runs through your deck and flags every hyperlink with a comment so you can double check all your links are where they should be.
Tag Hyperlinks with Comments – Adds a comment for every hyperlinked object in the presentation.
Delete Hyperlink Tags – Deletes all hyperlink tags. Any other comments won't be affected.
Export Hyperlinks – Export a report of all the hyperlinks in your presentation to a new Word document.
Navigate all Presentations – Need to compare multiple presentations? The Navigate all Presentations feature helps you easily review multiple decks simultaneously by arranging all your visible presentations equally across your screen.

Navigate through the slides in two ways; using the arrow buttons or shift-clicking either arrow to view the same slide number in each individual window.

Once you've finished, close this view using the tick button and return to working as before, or shift-click the tick to maximise all visible windows.

Export Tools – You can already export your PowerPoint presentation as a PDF/XPS file and as a video by going to File > Export. We've added a few more options you might find useful.
Save Selected Slides as New File – Create a new PowerPoint file from the selected slides.
Save All Slides as Individual Files – Create a separate PowerPoint file for every slide in your presentation.
Export Selected Slides as Images – Export currently selected slides as separate image files.
Export Media Files – Export all image and video files in this presentation.
Settings & Help Group

Settings / Ribbon Setup – Once you've figured out which BrightSlide tools are necessary to your workflow, and which you don't use very often, you can customize the BrightSlide ribbon by hiding and showing different ribbon groups. You can also select these groups or individual features from within them and add them to you QAT (Quick Access Toolbar).
Settings / Productivity Shortcuts – Activate and deactivate the various productivity-related shortcuts here.

WorkspaceZoom In – Ctrl + '+'Zoom Out – Ctrl + '-'

Hide & Show

Hide Selection – Ctrl + 3

Show All – Ctrl + Alt + 3

Arrange Objects

Bring Forward – Ctrl + ]

Bring to Front – Ctrl + Shift + ]

Send Backward – Ctrl + [

Send to Back – Ctrl + Shift + [

Lock Objects

Lock Selection – Ctrl + 2

Unlock All – Ctrl + Alt + 2

Align Objects

Align Left – Ctrl + Left Arrow

Align Center – Ctrl + Shift + Left Arrow or Ctrl + Shift + Right Arrow

Align Right – Ctrl + Right Arrow

Align Top – Ctrl + Up Arrow

Align Middle – Ctrl + Shift + Up Arrow or Ctrl + Shift + Down Arrow

Align Bottom – Ctrl + Down Arrow

Menu Tips – BrightSlide uses contextual Menu Tips to tell you tips and tricks about the add-in. Dismiss and reset them here.
Contextual Tools – There when you need them most, our PowerPoint add-in includes a host of context-sensitive tools. Learn where to find them here.
Table Tools – Right-click on a table to access these tools.

Copy/Apply Cell Format – Copy cell formatting and apply it to another cell.

Sort Table – Alphabetically sort table contents.

Transpose Table – Swap columns and rows of a table.

Convert Table to Text – This is a super useful tool if you are turning a table into a more impactful visual. Instead of copying and pasting or typing out each cell individually, simply right-click on a table and select Convert Table to Text. You then have the option to convert the whole table to a single textbox or convert each cell to a separate text box.

Straighten Line – Finally! An end to trying to make sure your lines are perfectly straight.

Select a line,
Right-click and select Straighten Line
Under the drop-down menu chose to Straighten to Left, Right, Top or Bottom. A quick way to tidy up any slide.

Move Section – Right clicking on a section title brings up a drop-down menu with some snazzy new options to easily move entire sections anywhere within your presentation. Restructuring just got that much easier.
Copy Selected Object(s) to Selected Slides – Select one or more objects on a slide and press Ctrl+C or click the Copy button in PowerPoint. Select multiple slides in the thumbnail pane and press Ctrl+V or click the Paste button in PowerPoint to paste your object(s) to all of the selected slides. This is great for duplicating content across many slides when you need it to be on the topmost layer and can't use the slide master. Our click-and-explore presentations use this technique for menu systems.
Color Contrast Checker – Measures the color contrast between two colors by using selected object(s). Aim for a color contrast ratio of at least 4.5:1 between text and its background color. You can see the result at the bottom of the right-click menu.

Measure using a single object — Right-click an object to measure. The result reflects the contrast ratio between the text and shape fill colors of that object. Outline color is ignored. A result will not appear if either the text or fill color is turned off.
Measure using two objects – Select two objects and right-click to measure. The result reflects the contrast ratio between the shape fills of those two objects. Text and outline colors are ignored. A result will not appear if one of the objects does not have a fill color.
Phew! That's it, for now. Keep an eye on our release notes to keep on top of updates or follow us on Twitter. Need more help? See our FAQs or send an email to brightslide at brightcarbon.com
You can also head over to our blog to discover the different ways BrightSlide can revolutionize your PowerPoint productivity.
Top tip: If you have downloaded our Quick Access toolbar then you can add BrightSlide tools to it, so they are even more accessible.