About
Want to be part of a great team?
Careers at BrightCarbon
Working at BrightCarbon involves varied and rewarding work for clients, and a healthy approach to sharing our knowledge and time more widely. We value and empower staff to act with a high degree of autonomy, and default to being open and transparent in how we run things. We offer flexible working, and are also open to part-time working.
We offer a profit-sharing annual bonus, matched retirement plan contributions, group life assurance, generous paid vacation (25 days in the UK, 20 days in the USA), professional training and inspiration funding, an art budget, health cash plan, a paid volunteering day, and paid sabbaticals. For parents who qualify, we offer four-months' paid (90%) maternity (or shared parental) leave. Oh, and everybody gets their birthday and Christmas Eve off as extra paid leave. In the US we also offer a full health and dental benefits package at no cost to staff.
BrightCarbon is an inclusive company and we welcome applicants of all backgrounds and identities. Candidates of any nationality; of black, white, Asian, or minority ethnic heritage; of any religious belief; of any working age; those with disabilities; and all members of the LGBTQ+ community are encouraged to apply to join our increasingly diverse team.
Details of any open vacancies appear below.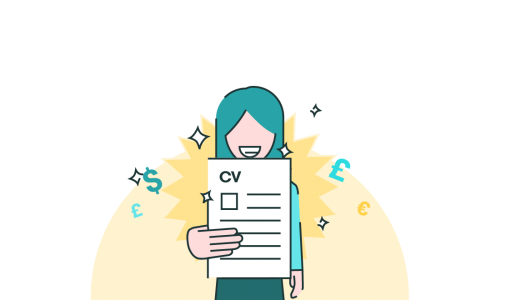 Full-time
Design Consultant
Manchester, Bristol, Remote
Salary: £20k - £30k per annum starting salary, pay reviews every six months, plus significant profit-share bonus scheme
Apply by: 25th Oct 2021
BrightCarbon is a fast-growing business communications agency, based in Manchester, but with staff across the UK and in the USA. We help our clients with their presentations and eLearning, by taking their text-heavy content, and finding the right visuals and animations to tell their stories in ways that are compelling and persuasive.
We help our customers to launch their products, train their staff, and win big deals. Most of what we do is to create presentations and eLearning, but we also create motion graphics, infographics, and pretty much anything that uses our visual storytelling abilities. Check out the portfolio on our website for examples – we don't use bullet points.
BrightCarbon is looking to recruit new design consultants to work with a diverse global client-base. The majority of the role consists of designing the right visual sequences to effectively convey a client's messages. Working alone or in a small team for each project, you will help translate what a client is trying to say into the right images, graphs, charts, and animated sequences to help get the point across clearly and beautifully.
In a business world where a lot of communication is done using PowerPoint, Keynote, and Google Slides, you will soon become fluent. You'll get to work on a huge mix of projects – from informal explainer videos for new start-ups, to quick turnaround presentations and infographics for some of the world's biggest companies and best-known brands, to sophisticated eLearning viewed by 1000s of people. You need to be comfortable with Photoshop and Illustrator. We'll teach you presentation and eLearning software from scratch to an advanced level. Some of our designers work on Mac, and others on PC.
This is an unusual role. For the right candidate, this could be a brilliant opportunity to do varied and rewarding work with a high degree of autonomy, and as part of an interesting and transparent company. As well as a contributory pension, we offer a generous profit-share bonus scheme; individual training, art, and inspiration budgets; a 'work from anywhere' scheme; we offset our carbon and donate plenty of work for charities. Oh, and everybody gets their birthday and Christmas Eve off as extra paid leave. Each (regular) year we also send some of our team to design conferences in the USA and Europe – we know inspiration is important.
We are looking for a talented designer who thinks visually, works precisely, and who can make things look beautiful. We would expect you to have some real-world design experience, and a strong portfolio. Some of our design team have degrees in graphic design or animation – but others are self-taught; what we really care about is what you can do. If you want to work on six-month conceptual projects, this probably isn't for you – our typical projects last weeks (or days) not months. We think that variety – and our collaborative culture – keeps things interesting. Because we've been growing fast, there's a real chance to make progress in your career too.
The right sort of person will be fast and accurate, enjoy working on a range of projects, and be comfortable working with others. You probably have a creative side outside of work – be that in a quirky hobby or an unusual interest.
This job could be based out of our Manchester (Northern Quarter) or Bristol (Old Market) office, but for the right candidate we'll be flexible on location. As long as the work gets done (well) – we don't much care if it is done from home or the local coffee shop, as long as clients are happy. Not every great candidate lives – or wants to live – in a major city. We organise co-working space or office shares for our staff in a number of cities. A significant proportion of the company's work is outside of the UK and while most of this is delivered remotely, some national and international travel may be required.
To apply, please send your DESIGNED CV IN PDF FORMAT via our email address careers @ brightcarbon.com (without the spaces) with a link to your portfolio. Again as a 'Word' of warning – if it seems like you really don't care what your CV looks like, we won't interview you. Please don't send huge attachments (5MB limit). Mark your applications for Joby Blume's attention.