Often, when working in PowerPoint, it can be really hard to quickly check what colors you're using – especially if the slides in your presentation come from (or are pasted onto) different templates. Using the color drop-down menu is helpful, but it can also be time-consuming to check individual slides (and there's no way to keep it open across your slides). Additionally if you use a lot of custom colors, setting them up on individual presentations (or having them easily accessible on your slides) can take up oh-so precious time if you're in a hurry.
Introducing our downloadable color tool for PowerPoint. Open up the PowerPoint file and copy and paste the slide into your deck. You'll see the theme colors change depending on what template you're using, and you can programme in as many custom colors as you like.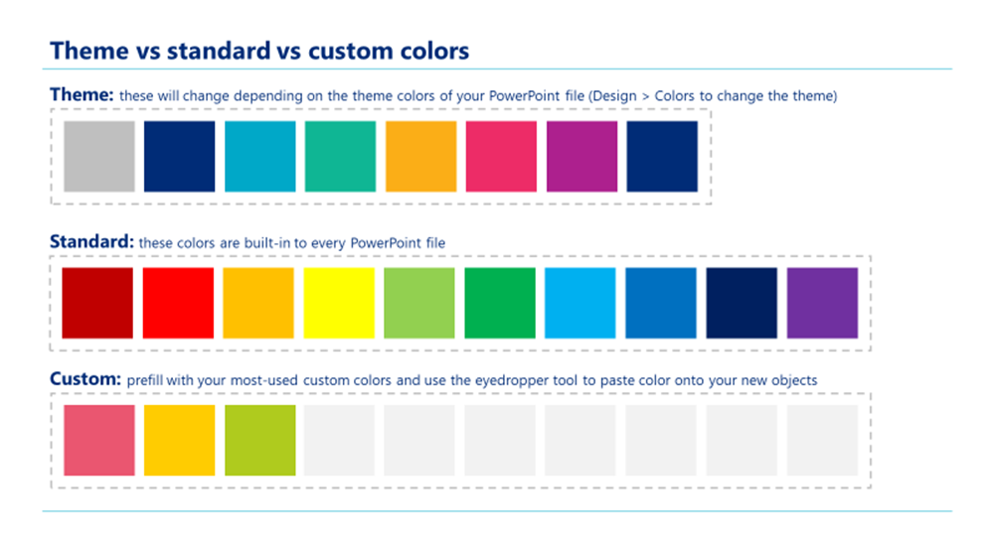 Top tip: if you use specific custom colors you can keep a few custom-colored boxes off the side of your slide ready for you to use the eyedropper tool or the paste formatting shortcut (Ctrl+Shift+c/v), to recolor in an instant.
Download: BrightCarbon Color Tool for PowerPoint
If you don't like your color theme and you want to change it, have a read of Richard's blog post on how to change theme colors in PowerPoint, with plenty of bonus color tips besides!
And if you don't know what colors to choose, sites like ColRD make it quick and easy!
We have other people in our own business reaching out to say this is the best presentation they have seen.

Sarah Walker

Softchoice